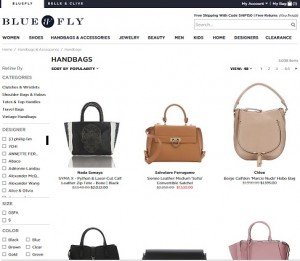 I like browsing for handbags online by looking at the ones that are most popular. Especially at Bluefly.
Why?
I definitely don't want to be like everyone else, but I want to make sure that I get the best bang for my buck.
I want to make sure that the handbag I buy is comfortable, durable, and is easy to use.
We've all had that bag that was really pretty, but impossible to find things in. And who wants that if you're going to spend good money on a designer handbag?
That's why I start by looking at the most popular.
I know that most likely no one near me will have the same handbag…but this way I know that I'm getting a bag that will be useful, and not have to be returned (or worse, end up just sitting in my closet collecting dust.)
I was just looking, and there are some really nice handbags on sale right now.
Another thing that I love about shopping on Bluefly is the different choices that I have when paying.
With most websites, you can only use a credit card. With Bluefly, you can pay by credit card, Paypal, Amazon, and even Visa Checkout.
It makes it a lot easier, and more secure when you have all of those options!
Don't forget, right now you can use code SHIP150 to get free shipping when you spend at least $150. And make sure you take a look at the top of the page when you are on Bluefly's website, because you never know what type of discount they'll end up having.