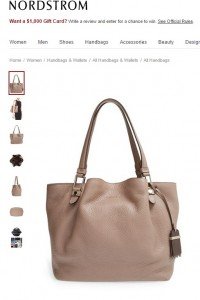 Are you looking for the perfect sized tote that can hold a lot of stuff, but isn't big and bulky?
Check out Tod's Medium Flower Leather Tote.
Nordstrom is selling it, and it's perfect. The main part of the handbag is zippered, so you don't have to worry about anyone getting into it. There are also 2 side pockets with snaps, to make it easy to get things in a hurry.
Right now they have it in stone, and it's the perfect neutral color to use with any outfit.
Since Nordstrom is selling it, if you get it and write a review, you'll have a chance to win a $1,000 gift card!
While your store might have it in stock, mine didn't, so I was happy to see they had it online.